The Orchid Garden consists of 2x Phalaenopsis Orchids and 2 plants in a clay pot. Depending upon the availability, variations in the color of the orchids and/or clay pot may occur.
All prices in USD ($)

Due to the seasonality of this product, there is an increase for cost of goods on specific delivery dates.
2 Orchids + 2 Plants

EC-058A

2 Orchids + 3 Plants

EC-058B

2 Orchids + 4 Plants

EC-058C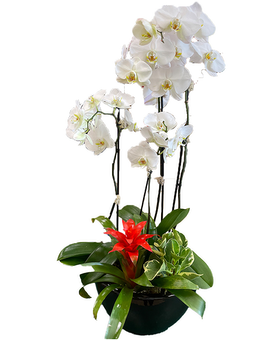 2 Orchids + 2 Plants - $149.99
2 Orchids + 3 Plants - $169.99
2 Orchids + 4 Plants - $189.99